Trades & Services
(Concrete Products)
Swimming Pool Maintenance Canberra
CJG Pools & Earth Works
Calwell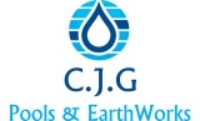 Description
CJG Pools & Earth Works offer the widest range of maintenance, design and construction services that doesn't just stop at swimming pools. From decking renovations and spa installation, to water feature maintenance, landscaping and remodeling, our professional scope makes us the guys for the job.
Products and/or Services
CJG Pools and Earthworks are experts in building new Swimming Pools in Canberra. We also provide Pool Landscaping services including Concrete Pool Maintenance and Construction.