Professional Services
(Photography)
Graphic Design, Interior Design
I&M Design
7/20 Moore Street,
Turner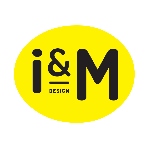 Description
A boutique graphic and interior design service.
Products and/or Services
Graphic Design I&M provide design for brochures, logos and branding, books, invitations for all occaisions like weddings and baby showers, website design, Facebook branding for small business, stationery, and pretty much anything you can think of. Interior Design We are passionate about interior spaces. Working in collaboration with Jenny Freeman, our goal is to create usable beautiful rooms that inspire the people who live within them. Whether you need design for a single room or a makeover for the whole house, we'll explore exactly what your needs are to make sure we get the right fit. Some of the things we can help you with are kids bedrooms, clever storage solutions, custom art and furniture, de-cluttering, colour consultancy. Often the most surprising elements of interior design is how little it can cost to make usable and noticeable change. We invite you to contact us for an interview so we can make a real difference in your home or office.
Trading Hours
Open all the time.