Pets & Hobbies
(Pet Washing & Grooming)
Equine Miracle - Therapies for Performance and Healing
Equine Miracle
Canberra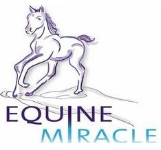 Description
Robyn Larson-Shelton is an accomplished horsewoman who has competed at a high level in horse trials and eventing, judged dressage and shows, and taught riders from beginner adults to keen youngsters competing at state level. She began her career working with western horses, showjumpers and then thoroughbreds. She became a brood mare manager, for Blue Gum Farm in Vic, at the age of only 18. Robyn also spent time working in racing stables, riding track work, driving trotters and preparing thoroughbreds for the sale ring and the tracks of Hong Kong. Through all this experience her passion for horses and their well-being has grown alongside her knowledge of movement and conformation. In later years, while starting horses as a profession, Robyn began acquiring more knowledge of body work. She was encouraged in this journey by friend and mentor, reknowned equine chiropractor and acupuncturist, Dr Ian Bidstrup. During this time of training Robyn met Dianne Jenkins, Dianne had the answers to questions Robyn had been asking for some time. These were questions about muscles surrounding the shoulders, and chronic back pain. Dianne offered to train Robyn in her own methods, now known as JENT and ERLT, and currently taking the international equestrian world by storm. Although Robyn is now qualified, Dianne continues as her mentor and trainer. Robyn???s passion for horses remains a powerful motivator for her, ensuring she continues to learn and expand her abilities. She enjoys every horse and considers her job a privilege.
Products and/or Services
horse massage, horse chiropractic, dog massage, dog chiropractic, pet care, bowen therapy, animal therapy, pet therapy, equine massage, equine therapy, horse therapy, horse complimentary therapy, dog complimentary therapy, horse healing, dog healing, pet healing, natural therapy for horses, natural therapy for pets, natural therapy for dogs, photonic therapy, red light therapy, JENT, myofascial release, craniosacral therapy, acupuncture horses, acupuncture dogs, acupuncture pets, horse behaviour problems, horse whisperer, equine body worker, canine body worker, performance therapy horses, ebw, erlt, holistic horse, holistic dog, holistic pet.