Flowers & Gifts
(Flowers)
Charnwood Florist
Wild Rose Florist & Giftware
3/6 Charnwood place,
Charnwood
Phone: (02) 62598889 Phone: 0427314018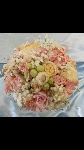 Description
Our florist is located in a beautiful new studio in the Charnwood shopping district. Come in, have a chat to our friendly staff and fall in love with our beautiful arrangements.
Products and/or Services
We provide a range of fresh and artificial arrangements for any occasion.
Trading Hours
Monday - Friday: 9am - 6pm Saturday: 9am - 4pm Not open Sundays