Flowers & Gifts
(Flowers)
Embassy Florist Canberra
Embassy Florist
Shop A10, Canberra Centre, Bunda St,
Canberra City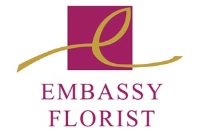 Description
Established in 1979, Embassy Florist has been serving all of Canberra for 30 years. Located in the Canberra Centre in the heart of the city, we are committed to offering only the finest floral arrangements and gifts, backed by service that is friendly and prompt.
Products and/or Services
Full service florist open 7 days. Order online.
Trading Hours
Open 7 day.