Portable Cord Organizer
Unraveler
11 Driftwood Lane,
Harrison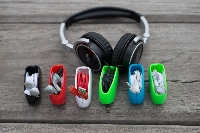 Description
Unraveler is a worldwide business committed to helping each individual in their quest for better cord management. The business based out of Canberra, Australia is proudly committed to ensuring long term sustainable cord management. With hundreds of customers in over 60 countries, the business is fast becoming the number one choice in cord management.
The vibrant and creative team provides a support network that puts customer needs and wants at the forefront of operations. The drive and determination has allowed the business to implement a product of choice that continues to grow from strength to strength.
Products and/or Services
Unraveler (www.unraveler.com.au), the new revolutionary cord management system is setting the industry benchmark. Our team of local and international partners is dedicated to meeting and surpassing our customer's needs. "Together we provide an unparalleled commitment with our clients to help beat tangled cords once and for all."
The ingenuity of the simple but highly effective design, has reinforced the mission of the business to transform cord management from a static tool to a portable, engaging and versatile organizing system.
The design of the Unraveler is perfectly suited to the everyday common use of electronic devices. Headphones, ear-buds, mobile chargers and USB cords are just some examples of the Unraveler applicability.
Combined with the flexibility of using the device virtually anywhere, its growing appeal within the market is a testament to its unique characteristics. "Specifically designed to handle your portable cord needs, the Unraveler not only provides versatility but its sleek design and colour options make it appealing to the wider demographic".
The online Australia business, based out of Canberra provides local, national and global appeal through its unique solution based product. Combining B2C and B2B solutions, Unraveler has provided an integral solution that is modernizing how cord management, and in particular tangled cords are managed.