Clubs & Organisations
(Social Clubs)
Scientology Purification Rundown
Scientology Purification Center - Canberra
106 Alinga street,
Canberra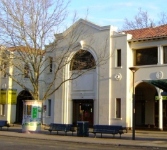 Description
The Scientology Purification Rundown has been the work horse of effective detox for the last 30 years. Be free of the accumulatted toxins and drugs, and experience the spiritual relief of releasing them from the body. Thisd site explains how this rundown works and why. Remember, it works.
Products and/or Services
The Purification Rundown, a spiritually based detox service.
Trading Hours
Open 7 days from 9:30 am to 9:30 pm week days, and 9:30 am to 5:30 pm week ends.